Many of our take/two newsletters focus on organic (free) social media marketing efforts because we believe in maximizing event marketing budgets. But in order to more effectively reach new audiences and grow your event in a short amount of time, it is necessary to allot space in your budget for paid social media endeavours.
What do you need to know before starting a paid social campaign for your event? How can you make sure you spend your money wisely? We'll cover the 4 main social media platforms best suited to events and share some pro tips with the help of our paid social expert Vlad Colt.
Spending on social media has increased more in 2018 than in any other year and is forecasted to accelerate over the next five years by 66%. (click to tweet)
Note: all CPC costs are in Canadian dollars.
Facebook
Quick facts
Launched: 2006
Number of monthly active users: 2.32 billion
Average Cost Per Click: around $1.27
Share of advertising revenue from mobile: 93%
Most common gender and age: Males (57%) aged 25-34 (29.7%)
Latest headline: The platform was mired in scandal throughout 2018. For the first time, the number of active users declined in North America as people became aware that their data can easily be misused by bad actors. As a result, all platforms are trying to regain the trust of users and tightening their policies.
The Basics
Pages with fewer than 10,000 fans see an average organic reach rate of just 8.8%, compared with 27% for posts that are boosted with a paid social initiative. Organic reach has been on the decline for some time, and the situation was only made more challenging after the 2018 change in Facebook's algorithm that prioritized content from family and friends over the self-promotional style of messaging pumped out by many corporate Facebook pages.
Facebook Ads is an excellent product that can help you reach highly targeted demographics and supercharge the promotion of your event without spending an exorbitant amount of money. If you are the organizer of the Pastry Chef Convention in Vaughan, for example, and you want to attract recent graduates, you can set your targeting options to prioritize users from Ontario aged 18-25 who are new to their position. You can also have Facebook suggest "Lookalike" audiences for you to reach based on a predefined source audience (e.g. your best customers).
The Facebook Pixel is another product to consider. It consists of a piece of code you can easily integrate into your event website that allows you to understand when your delegates or site visitors have taken an action after seeing your Facebook ad. This information can then be used to more precisely target people, allowing Facebook to maximize your conversion optimization.
LinkedIn
Quick Facts
Launched: 2003
Number of monthly active users: 260 million
Average Cost Per Click: around $7.37
Share of advertising revenue from mobile: 60%
Most common gender and age: Males (56%) aged 25-34 and 35-44
Latest headline: Business is booming for Microsoft-owned LinkedIn, as the platform now boasts over 610 million professional members, including executives from all Fortune 500 companies. About 45% of LinkedIn article readers are in upper-level positions.
The Basics
Nothing beats LinkedIn for B2B applications, or for reaching qualified professionals in general. It's not just a digital employment service: LinkedIn boasts 15 times more content impressions than job postings. It's reputation as a safe and reliable platform has not changed, so you can launch a paid social campaign there knowing that you're reaching a qualified and high-quality audience with a low propensity for negative sentiments or pushback. This luxury means that LinkedIn ads are the most expensive ones on our list.
Advertising options available include news feed post boosting, similar to Facebook, and personalized messaging through the LinkedIn inbox. Video ads are definitely worth a look, because nothing captures attention these days quite like a video!
Instagram
Quick Facts
Launched: 2010
Number of monthly active users: 1 billion
Average Cost Per Click: around $3.17
Share of advertising revenue from mobile: virtually 100%
Most common gender and age: Females (68%) aged 18-29
Latest headline: Instagram announces the launch of IGTV, a video platform intended to compete against YouTube. Users will now be able to upload videos of up to 10 minutes, while creators and accounts with larger audiences can upload videos of up to one hour.
The Basics
Instagram is hot right now! We have noticed that in the past 2 years, the number of business profiles on Instagram has skyrocketed. Being a photo-centric social platform, Instagram is perfect for events. Photos of delegates and the snazzy entertainment at your meeting can perform very well on this platform, as well as more traditional-style graphics. The challenge is to cut through the clutter and stand out in this packed forum, as well as to assemble the best target audience possible considering that it skews younger. Connecting with Instagram influencers in your industry is very important. Once you have established your presence, give Instagram Ads a shot. Because Insta is owned by Facebook, you can integrate both platforms in one paid social campaign.
Advertising on Instagram can be done via stories, or through boosted photo/video posts. Stories are a sort of personal news feed that users create and share with their followers. Over 400 million users interact with stories daily.
Twitter
Quick Facts
Launched: 2003
Number of monthly active users: 326 million
Average Cost Per Click: around 53 cents
Share of advertising revenue from mobile: 88%
Most common gender and age: Males aged 18-29
Latest headline: A new desktop layout is about to go live, providing a much-needed refresh to the look and feel of the website.
The Basics
Twitter is the place to go for breaking news and live updates, making it a great spot for meeting planners to spread the word about their event. The posting cycle is quick and frequent, meaning multiple posts and retweets per day are necessary to stay top-of-mind on this buzzing platform.
Twitter Ads consist of boosted posts or other account visibility options that can be promoted in different ways based on your goals. Twitter will optimize your paid social ads for unique reach if your goal is to generate awareness, for example, or you can direct traffic to your website with Website Cards.
Pro Tips
What's the most important thing meeting planners should know about paid social?
The more relevant an ad is to someone the more likely they are to act on it. The most important thing meeting planners should know before running any ads is understanding their audience inside out.
Vlad suggests starting with a small audience that is already familiar with your brand, like past website visitors, email lists, or those who recently engaged with your Facebook page. This way you can more easily craft something that is meaningful and interesting to them.
When should I launch a campaign and how much money should I spend?
"There is no definitive answer as to whether you should or should not launch a paid social campaign. If you don't try you will never find out, and that goes for any advertising platform. Instead, ask yourself how can you make the platform work for your event? Most importantly, where does the platform fit in your overall digital strategy?"
Adopt a culture of continuous testing.
Your paid social ads may not always be ROI positive from day one but that doesn't mean you should stop, he says. Instead, keep reading and learning about the platform and dedicate a budget you're comfortable with. Consider the money spent as an investment in understanding your audience and building experience.
Article by
Justin Mulfati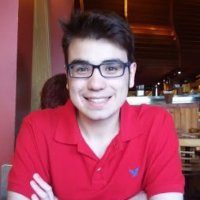 Justin is passionate about bridging the gap between art and business, and is constantly on the lookout for great event marketing content to share with the sensov/ community.