Your event website is a master-class of organization; a beautiful and clean hub of information. Now take it to the next level.
Have you taken advantage of landing pages in your event marketing campaign?
What is a landing page? It's a web page optimized to convert prospective attendees. If your event landing page is cluttered, missing key elements, or nonexistent, you will lose registrants. Guaranteed.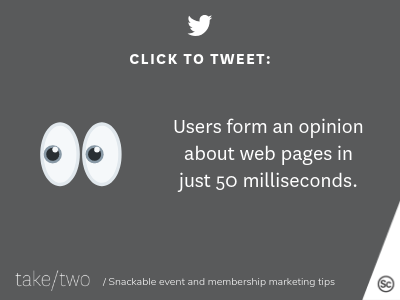 Start building landing pages that convert. 
1. Your event landing page should be different from other pages on your site
A registration page should not be spread across multiple pages, or encourage actions other than registering. A landing page is truly at the bottom of your funnel and should be focused only on making a sale. The landing page architecture should be distinct from the rest of the event website by simplifying the layout and keeping only the essential elements. Navigation toolbars, extra text, and other elements can be traded for punchier elements like the hero shot, testimonials, and your unique selling proposition. Just remember to keep a 1:1 attention ratio, which means that there is only one clickable button: the register now button.
2. Succinctly communicate the benefits of attending
Here's where many meeting planners go wrong: they approach the content of the landing page from their perspective, reflecting their event's history or their association's merit. Unfortunately this angle is becoming less and less effective as people, especially millennials, are interested in storytelling. Deep content is always more effective than fluff. Step into your delegates' shoes and visualize what they want most out of your event based on their persona. From millennials to baby-boomers, all your delegates will fall into a distinctive persona with special wants and needs. Address those and your landing page will convert.
3. Your event landing page should be mobile responsive
The days when you could get away with a lack of mobile support are long gone. If your event landing page (and event website for that matter) does not display nicely on a mobile device, you could be losing as much as 80% of your audience! Make sure all the elements align properly on smartphone and tablet screens. From now on, think "mobile first" for all your web content. Google has doubled-down on mobile responsiveness when determining the rankings of its search results, setting the stage for a global shift to mobile-first thinking.
4. Avoid a generic or cluttered design
A simple layout is not the same as a safe layout. If you want to make an impact, avoid stock photos. Show off the fun and excitement of your event by including a couple of your best photos from past events. It would be ideal to avoid placing an ad on your landing page, but if you are obliged to, make sure it is minimally disruptive.
5. You can have more than just one landing page!
While this may seem to run counter to the message of simplicity we have been preaching thus far, the fact is that the more landing pages you can create, the more chances you have to capture someone's attention. These numerous, separate landing pages are designed to attract people from various backgrounds. You can tweak your positioning or offers to cater to the needs of your different delegate personas, for example. You can also take this idea into a new and exciting territory: influencer marketing. Using a tool like snöball, you can provide all of your event participants with their own customized landing pages, empowering them to reach out to their network and expand your event attendance.
Landing pages have been around for a long time, but it's clear that their core principals are an integral part of digital marketing and that they have the potential to grow and evolve with the times. Talk to us about getting your event landing page optimized for maximum registrations. 
For more inspiration and tips, check out our event landing page tips blog on the snöball website!