Recently, event industry titans Will Curran and Mahoganey Jones joined forces to refresh the classic inbound marketing framework and make it relevant for meeting planners! Their webinar entitled Make Your Clients Come To You: Inbound Marketing For Event Companies provided some great tips and tricks and lived up to its name. Their approach to inbound marketing was highly tactical and customized for the event marketing space, which is why we loved it and wanted to share the biggest takeaways with you.
We'll explore 5 inbound marketing tips to promote your next event: 
1. Learn the basics by getting your Hubspot inbound marketing certification
2. Use landing pages for lead generation and audience segmentation
3. Start retargeting and making discovery calls to reel in qualified leads
4. Employ SEO tactics across your website and increase your domain authority
5. Frequently promote your content across social media
1.
HubSpot inbound marketing certification hits the spot
But first, what is HubSpot inbound marketing for events? In essence, when you practice inbound marketing, you're using strategies that will draw prospective attendees to come to your website organically. Looking at HubSpot inbound marketing vs. traditional outbound marketing, the former encourages the creation of helpful content to attract, engage, and delight visitors, while the latter is heavily focused on gaining visibility through paid advertising. Both techniques complement each other when used properly to promote your event, as you will see.
HubSpot practically invented the term "inbound marketing" and they are keen on spreading this concept to the next generation of marketers via their Academy. Event professionals should seriously consider taking these free online courses to learn the basics of inbound marketing. HubSpot Inbound marketing relies on creating incredibly juicy and attractive content to draw people to your website organically instead of paying big dollars in advertising for your visibility.
Takeaway: Become an authority in your space by creating a centralized hub of content on your website, and avoid driving too much traffic to other websites or relying exclusively on channels that you don't own, like social media.
2.
Lead generation for a new generation of participants
Will loves landing pages almost as much as we do! He stressed that a huge part of understanding his clientele (and knowing who to sell to) comes from the data obtained through his lead generation forms. Have your valuable resources, including whitepapers, checklists, and eBooks gated behind a form that asks about the demographic details you care about. Full name, email, phone number, job title, country, are a given. But you should also go beyond this to ask for details about their budget and industry, which will help you segment your list to better identify potential leads.
Takeaway: Will's A/B testing confirmed that the length of the form didn't affect conversion, so feel free to ask all the questions you need to qualify and follow up with your leads.
3.
Smart Paid Social
During the webinar, our Prez Rachel asked if Will uses any paid ads. Indeed, he does and confirms that LinkedIn brings him the most qualified audience. As you may remember from a previous blog of ours, LinkedIn is pricey for paid social. Will mentioned he supplements this with retargeting efforts on Facebook: when marketing qualified leads hit one of his landing pages, they'll be served ads that speak to more bottom-funnel concerns.
Takeaway: When a qualified lead bites, it's up to you to be super helpful towards them and get to know what their true needs are by making your first discovery call. The books The Sales Development Playbook and The Sales Acceleration Formula are high on Will's recommended reading list!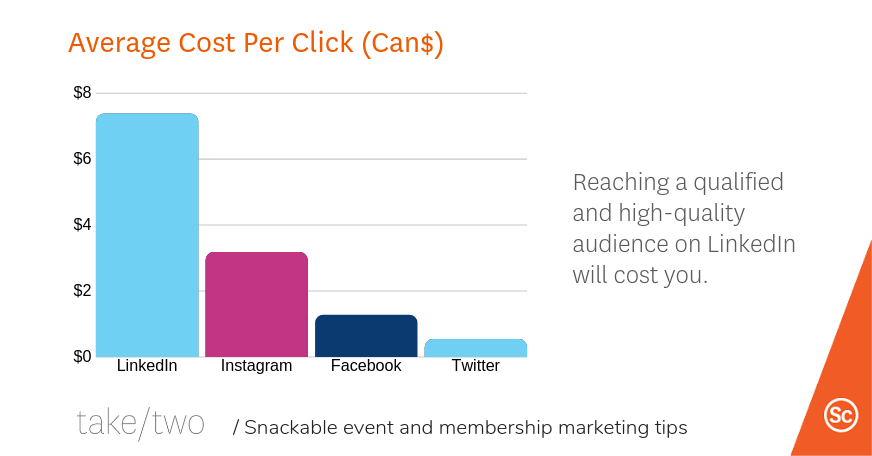 4.
SEO: Can Google find your event landing page?
It's difficult to overstate the importance of search engine optimization. When prospects are using Google to find the information they're interested in, they rarely go beyond page 1. Part of a successful inbound marketing strategy is the capacity to get your event or association to rank highly when a user searches for keywords that speak to what you offer. Start taking steps to get your website and its content fully optimized. A good start would be to ensure your site is mobile friendly, and that your blog articles each focus on a specific keyword that you know to be both relevant and popular. The more blog posts you write, the better! Be sure to create videos too, especially to cover long-form content.
Takeaway: As you get more involved with SEO, your domain authority (a score that estimates your ability to rank highly in search engines) will increase. This is a great opportunity to start creating landing pages and content that targets separate local markets by integrating city names around your keywords.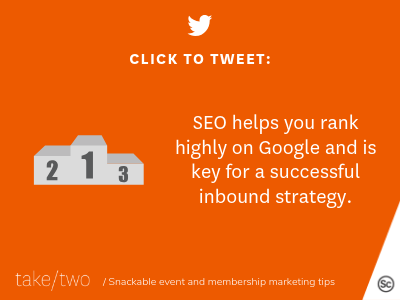 5.
The top social media inbound marketing tips for your event
What better way to ensure that your customers are finding and engaging with your content than to share it directly with them? Needless to say, last week's webinar could not have been complete without Will's invaluable social media inbound marketing tips.
The main takeaway? Repurpose your content! Whether it's an old article which attracted a large readership, a video that did better than expected or a podcast that just needs the extra push, there is always an opportunity to promote your past content even more. In fact, Will made it very clear that there is absolutely no shame in sharing the same piece of content multiple times on your social media.
Apply this trick when promoting your event on social media: share the same content multiple times with different captions over a long period of time, and keep track of each post's performance. Then, as you analyze your social media insights, look for posts that seem to have stood out and attracted a significantly greater amount of engagement than others, and take notes! With enough luck, you might even find the secret formula for improving your audience's engagement.
Takeaway: If you're in a time crunch, it's not a bad idea to repost a couple of your best-performing tweets from the last 30 days!